Tropical Storm Zeta Forms Right On Cusp Of New Year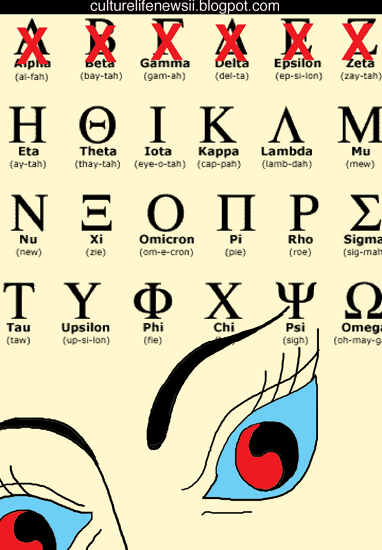 By Elaine Meinel Supkis
Zeta is born. Record hurricane season continues unabated even as record warmth along with brush fires in the Midwest and giant waves from the huge weather system in the Pacific pounds the West Coast, the changes caused by global warming are now catastrophically obvious.
From Yahoo:
Tropical Storm Zeta formed Friday in the eastern Atlantic Ocean, another installment in a record-breaking hurricane season that officially ended last month.

Zeta, the 27th storm of the season, formed Friday about 1,000 miles south-southwest of the Azores islands, according to an advisory posted on the National Hurricane Center's Web site. It posed no immediate threat to land.

The center said it would send out a full advisory later Friday. Tropical storms have winds of at least 39 mph.

It was not immediately known if Dec. 30 was the latest date for the formation of a tropical storm in the Atlantic. But earlier this month, Hurricane Epsilon became only the fifth hurricane to form in December in 154 years of record-keeping. Hurricanes form when their winds exceed 74 mph.
Will the earth have hurricanes year round now? This is a serious querry. Building stuff in Florida and the Gulf at a frantic rate, all this can be undone forever by raging hurricanes. Unlike New England, Florida is flat as flat can be. On top of that, the ocean rising will swamp much of Florida, too.
New Orleans is doomed. You can't spend all our wealth on building in that obviously inadequet zone, not if we can spend our treasury on more important things, not that this matters while we are wasting over $200 billion+ on the stupid war in Iraq!
But this has to be considered! The drought/flood cycle is a disaster for all of us. I see signs of it up here in the Northeast, we usually have the evenest rain pattern in America. Same number of inches of moisture a month, up until the last 20 years! Now, that too, is destabilized.
KSBW Channel:
The latest storm along the Central Coast stirred up big, pounding waves along the Central Coast Wednesday.
The wind-whipped waves didn't cause any major flooding but did fall close to beach businesses on the Capitola Esplanade. Sandbags were kept close at hand but weren't needed, and some people came down to the coast just to watch the high surf.
"The water was coming up to the windows. That was something to be concerned about. I'm going to get the storm shutters today. I think it's time," said Zelda's Restaurant owner Ed Leipelt.
I have surfed in California and looking at the pictures of the waves brought back memories! The earlier waves were perfect surfing but it seems today, they are rougher and less even, no classic, glass-clear curl. Storm waves can really pound you into the sand!
At one of my old haunts, Manhattan/Venice beach, they had to berm the sand to prevent flooding and are handing out sandbags and there are the usual mudslides but then, we should talk! We had them up here, too, in Vermont, this week due to rain! Rain in northern Vermont after Xmas?
Ye gads.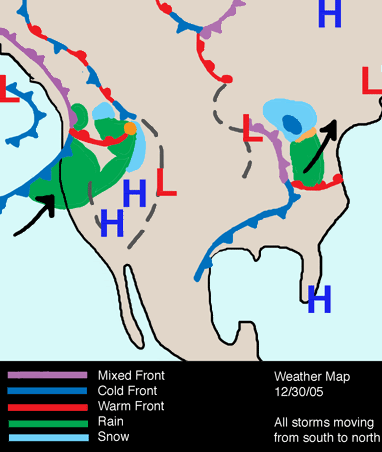 Because I farm or have worked outdoors much of my life, I am hyper aware of the weather and look at today's map! This isn't a winter map! It is a Spring map. The storms are all moving south to north! There is snow, but it isn't sweeping down from the north, it is always part of a huge rain system that finally reached cold air. This is why all our snow storms this year have been half rain or more than half rain which makes my mountain very, very slippery. Already, many trees have been damaged from the ice when the storms transit from rain to snow. These are the most dangerous of storms.
Several years ago, much of Great Lakes Canada had so much ice on the lines, the huge power pylons collapsed. Electrical linesmen from my community had to move up into Canada for three months to rewire the place! Just this week on TV, we watched the damage from icestorms in the south cause trees to collapse on houses.
This isn't normal. I assure you, it isn't.
Meanwhile, back to watching Bush's massive planetary/economic/legal trainwreck. Gotterdammeridiot time.
*************************************************************
Previous Similar Articles
Apres de hurricanes
Weather Develops Long Range Drought/Flood Patterns
Rain Forests Dry Up
*************************************************************
To return to homepage click here
To read more science news click here
Washington Pest