Tiger Party--Mission: Win Something
Last night my kids and I converged on Crossgates Mall, Albany, NY, to see if we could win either an iPod or the Powerbook laptop. My daughter came first and got inside during the first half hour. At the door they were handing out scratch off lotteries and she called me on her cell phone to tell me
she won...but not the best prizes, alas. It was fourth prize which she gave to me for Mother's Day. (Geek kids are awesome)
So I stood in line for a long time waiting my turn.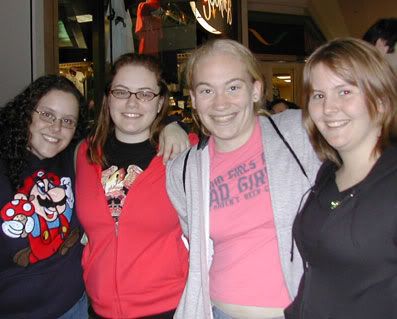 Behind me were a group of SUNY students. Two of them owned Apple computers already and two were considering it. There was also one who owned an iPod and the others were there to look at them and perhaps win a computer or something.
It was really crowded in the store but I took a picture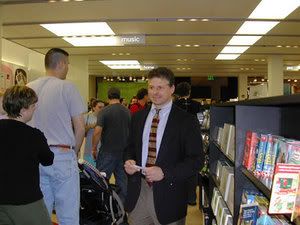 where the crowd thinned out a tad. Finally I got to the "Genius Bar" where my daughter was collecting her prize. Her cell phone rang. These phones are useful since my family was separated and yet we could track each other. My son just arrived from his college job and told us he was outside so we crossed our fingers because as per usual, mom's luck was rotten.
I won one song for an iPod. Great.
Meanwhile, the SUNY students who didn't win anything much better, were checking out
the goodies at the iPod station.
My son burst in with his laptop open. "Just as I got started, they moved us into the store," he said, trying to shut it. Truly, he is uber geek.
He won only a song. "Give me your song card and I will give both to the guy downstairs," he said. Never waste anything.
He told me a guy walked past the long line of Apple fanatics yelling, "Microsoft rules" and they all laughed at him and he got mad. Wow. A computer riot. Guess it will be fought in online forums later! Slash and burn text! Way to go!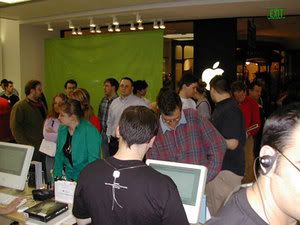 I bought the Tiger and took it home. My husband who is tech support when he isn't feeding the horses or looking for eggs installed it and immediately began to play around with it and grumble when things didn't appear obvious. But he clicked away until all the hidden goodies were found. Seeking eggs from hens is good practice! He also chops firewood. Dangerous. Could be the "solution" with computer glitches!
I am still exploring the new systems. So far, it is working. If only blogger worked better....