PIGS IN SPACE INTERVIEW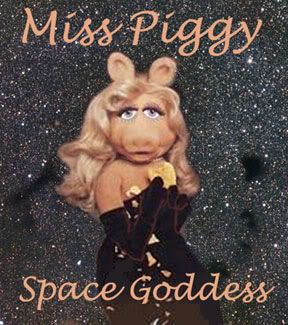 I was very fortunate to land an interview with the Space Goddess herself, Miss Piggy. (A word of warning here. This interview is fake, it is a parody. The real Miss Piggy is unavailable for comment but pay no attention to all this)
Miss Piggy, mon chere, you look divine, as always.
Miss Piggy:
Anton, my hairdresser, is a genius, non? (tossing long locks casually with gloved hand).
I am so pleased you are gracing us with your presence today.
Miss Piggy:
Where's the Pigparrazzi? I thought you said this would get full coverage? What gives? (suspicious glare)
Oh. Um, how about I snap a photo with my electronic camera? (She poses with a studied but very effective glance over the shoulder)
Miss Piggy:
Kermie says I am the most photogenetic pig in the universe.
Yes. Actually, you look better than most fashion models.
Miss Piggy:
Oh? And who, pray tell are the exceptions to most? Huh? A troop of scarecrows. I stand alone!
Yes. Heh. On to business. Here is a news bulletin from China. (opening the newspaper)
From Xinhaunet
China plans to bring animal seeds to the outer space for the first time in its second manned mission, Shenzhou VI, which is scheduled for early October this year.

The Chongqing Academy of Animal Husbandry Science (CAAHS) in this southwest China's municipality recently signed a contract with the space breeding center of the China Aerospace Science and Technology Corporation. Under the accord, Shenzhou VI will carry 40 grams of pig sperms to the outer space. The sperms will come from two carefully chosen Rongchang pigs, according to a CAAHS official.

Named after Rongchang County of Chongqing, Rongchang pig is outstanding in terms of figure and quality. Its pork is well received both at home and abroad.

In October, part of the chosen sperms will be put inside the biological capsule of Shenzhen VI and the other part will be put outside. It is believed that under the microgravity and cosmic rays of the outer space, genes of the sperms stored in different manners will be changed in different ways.

After staying for 4 to 5 days in the outer space, the pig sperms will be put together with pig eggs in test tubes on the earth. What kind of changes will occur in the figure and quality of the test-tube pigs? The experiment results will likely come outin two years, according to breeders.
Here is a picture of one of these "Rongchang" pigs:
Miss Piggy:
EEE. He reminds me of someone! (thinking) A certain starship captain, Mr. Clueless. He was my co-star in "Pigs in Space." So, he's gone to seed, eh? Somehow, that doesn't surprise me at all. (squinting to see the photo better) Perfect bachelor quarters for him. Who was his decorator? Rush Limbaugh?
The Chinese are spending $2 million to put his sperm in space.
Miss Piggy
(covering her pert ears) Nooooo! I would rather go to bed with Gonzo than hear details about this! Where is Kermie? KERMIE! Cut. End of interview. Where's the door to this joint? KERMIE!
Ouch. Slammed doors can cause quite a bit of pain, reminds us that air has density, too. Well. I did enjoy this brief visit from a great movie goddess. Hope you see her next movie, oh, I forgot to ask about it!
Rats.
Well, next time, on
Pigs in Space
we will chat about that.
Signing off, this was Elaine Supkis for Culture of Life News!
To return to homepage click here